Aktuelles
< Vanessa Bittner from Austria wins the 1000m Ladies in 1:20.09!
25.01.2014 12:34 Alter: 8 yrs
Kategorie: JWC

Kai Verbij from the Netherland wins the 1000m Men in 1:12.84!
The YOG-gold medialist from 2012 Fan Yang from China gets second in 1:13.90 followed by his countryman Liu Yiming in 1:14.17.
---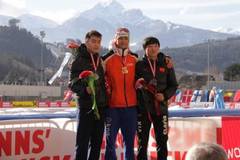 Official resultlist here
---