Aktuelles
< Kai Verbij from the Netherland wins the 1000m Men in 1:12.84!
25.01.2014 13:57 Alter: 8 yrs
Kategorie: JWC

After Silver on the 1000m Melissa Wijfje wins the Gold medal on the 3000m.
The dutch athlete Melissa Wijfje wins in a time of 4:24.77. Olympic participant Antoinette de Jong (NED) gets second in a time of 4:25.68 followed by the russian girl Yelizaveta Kazelina in 4:31.30.
---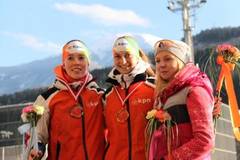 Official resultlist here
---